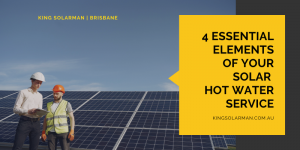 At King Solar Man, we want to protect our customers with a top-quality solar hot water service every 5 years. Protect your unit's performance and life-span. Here are the 4 essential elements of your hot water service and what to expect from a visit from our expert team.
#1. Electrics, Pumps & Panels Service & Check
The element and thermostat should be checked, as well as all wiring connections. Split systems will also have checks of the controller and sensor cables as well as the pump itself. In addition to an overall systems check, all panels will be thoroughly cleaned as part of the service to optimise performance.
#2. Leaks & Corrosion Checks
Your solar hot water specialist will ensure there are no leaks or corrosion on pipework, collectors, valves, or the central tank itself.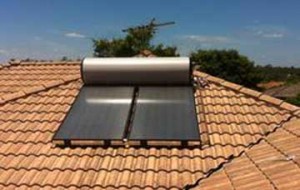 #3. Parts Service & Replacement
We check all small parts and replace as required. If your unit is vitreous enamel or mild-steel, an anode replacement is usually required.  If your tank is stainless steel, then it does not have an anode.  All valves will be checked to ensure they are operational.  Replacement valves may include:
Pressure and temperature relief valve

Cold water expansion valve

Isolation valve

Pressure limiting valve

Tempering valve
#4. Warranty Assessment Check
At King Solar Man we want to ensure if there's anything already covered by your warranty, it will be honoured. Most top-quality systems will have a 7-year warranty, but require the service to be undertaken by experts like us.
Our solar hot water service will project your unit for years to come. Talk to us today for more advice on hot water maintenance.