Heat Pump – Energy Efficient Hot Water System
No need for collectors, maximum efficiency in one unit.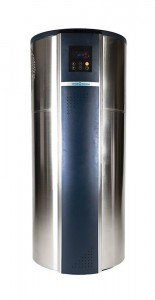 Heat Pumps
A Heat Pump is a highly energy-efficient water heater. It absorbs warmth from the air and transfers it to heat water. They operate on electricity but are roughly three times more efficient than a traditional electric water heater.
A heat pump works on the same principle as a refrigerator, but instead of pumping heat out of the fridge to keep it cool, they pump heat into the water. Electricity is used to pump a refrigerant through the system. The refrigerant transfers the heat absorbed through the air to the water in the tank.
Heat pumps saves energy, saves money and reduces greenhouse gas emissions. These units do not have collectors (or panels) on the roof.
Energy Efficiency Calculator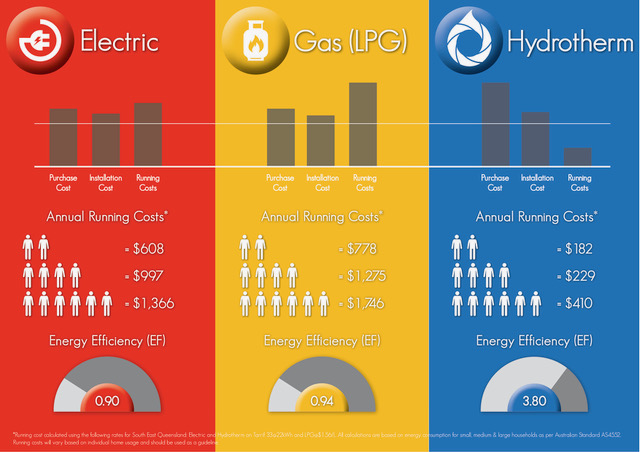 Why Choose A Heat Pump?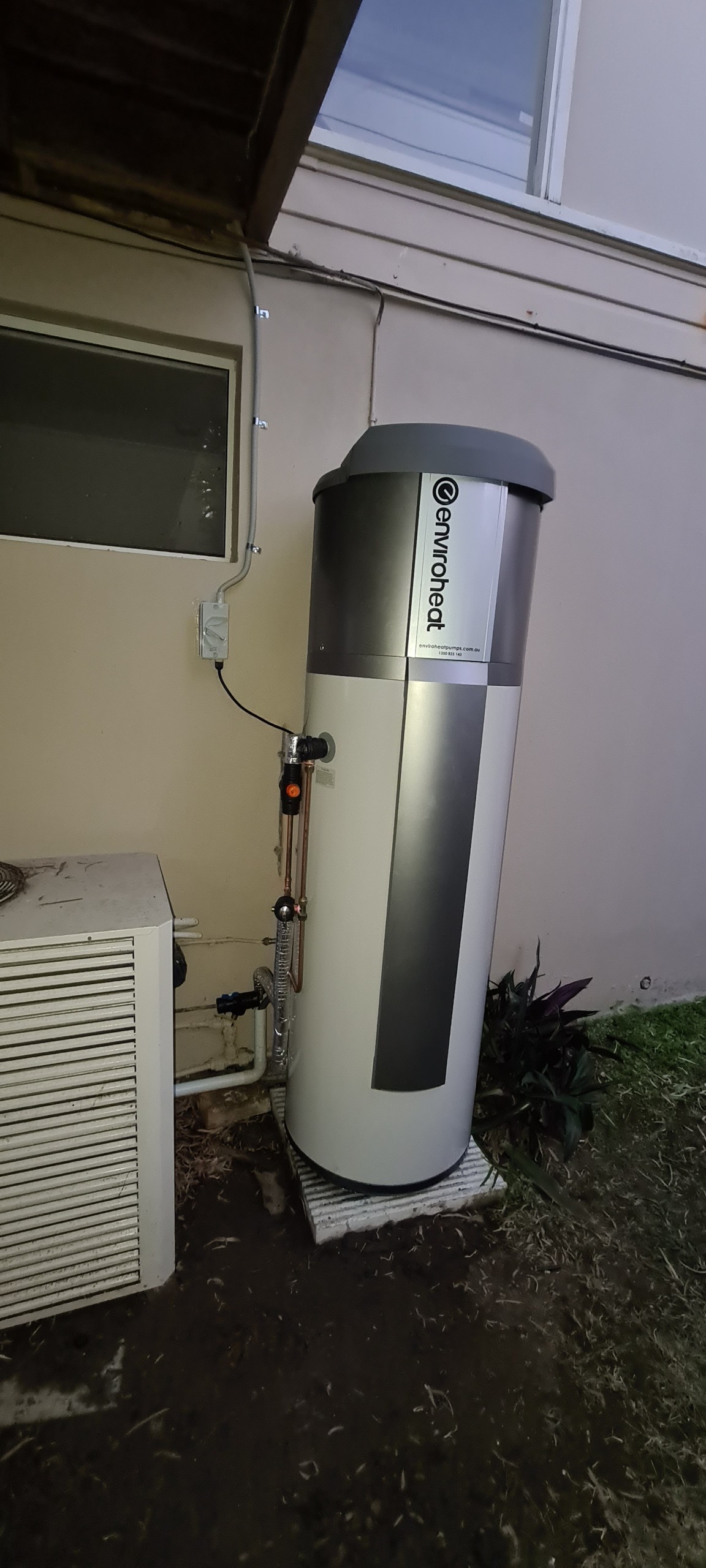 A heat pump provides maximum efficiency as it simply moves heat from the surrounding atmosphere, into the water, rather then actually producing it. As the heat in the atmosphere comes directly from the sun, heats pumps are considered a renewable technology and are environmentally friendly.
Heat pumps are fantastic energy efficient alternative for those environments where roof space is limited or occupied by solar power panels, where the home does not have a north facing roof orientation (or within 45 degrees off north) suitable for solar hot water panels, where roof structure is poor or where there is an asbestos roof.
Heat pumps attract an STC (Small-Scale Technology Certificates) rebate. This is offered to you at an upfront discount. Typically a heat pump costs a little more than a traditional electric storage water heater but you benefit from the long-term cost savings off your electricity bill.
Why Use A Hydrotherm Heat Pump?
The Hydrotherm uses a fan to pull surrounding air from the atmosphere. This air is directed across an evaporator containing a low temperature, low pressure refrigerant. The heat in the air is transferred to the refrigerant via the evaporator, before it is expelled. If you stand next to a working Hydrotherm the air leaving the system will feel very cold just like standing under an air conditioner. This is because all the heat from the air is now in the refrigerant.
This high temperature, high pressure refrigerant, leaves the compressor and travels down a condenser coil, located inside the water storage tank. The heat from the refrigerant is transferred to the water via the condenser coil.
Video – Hydrotherm – How a heat pump works
Enviroheat Key Features and Benefits
HIGH EFFICIENCY RATING – Cut your hot water bills by 70% or more.
INTEGRATED 275L TANK – Provides enough hot water for 6+ people.
INTERACTIVE CONTROLLER – Personalise your settings for maximum efficiency.
STAINLESS STEEL CONSTRUCTION – 316 Grade stainless steel.
15YR TANK WARRANTY – Australia's leading system warranty – comes with a full replacement or refund pro-rata warranty if any cylinder fails within a 15 year period.
5YR PARTS WARRANTY – Ensure every bit of your system runs efficiently – all parts come with a 5 year full replacement warranty should they fail within this period.
48HR SERVICE PROMISE – Should anything go wrong with your system, Hydrotherm guarantee to have you back up and running with hot water within 48 hours.
ECO FRIENDLY DESIGN – Help reduce carbon emissions by 4 tonnes annually.
STC REBATE – Currently attracts an STC Rebate of 29 STC's, or approx $1,100 in rebates.