Natural Gas
First and foremost you must have natural gas available in your area. Natural Gas can be fairly cheap to run and is an environmentally friendly option. A Gas provider will usually charge a quarterly connection fee of approximately $70 – and this is before even considering usage charges.
LPG (Liquid Petroleum Gas)
LPG is actually the most expensive to run. Even though it is reasonable environmentally speaking, it can be hard on the pocket; sometimes even 1.5 to 3 times dearer than Electric Hot Water.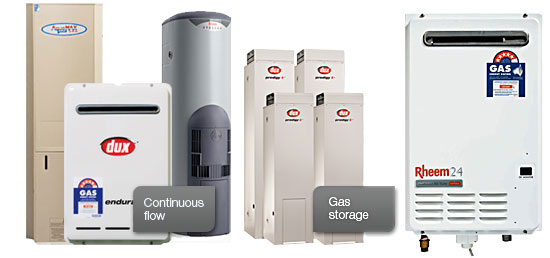 Typically gas systems cost more to install and LPG is considerably dearer to run but have the advantage of supplying more hot water due to the continuous flow unit not being limited by storage capacity.
Heating water with gas is extremely safe and efficient. However to ensure they remain safe , all gas hot water systems are governed by strict installation rules. It is law that they are only installed or serviced by a licensed gas fitter.
What Do I Need To Know About Gas Hot Water Systems?
There are two main types of Gas available: Natural or mains pressure and Liquid Petroleum Gas (LPG).
Gas Hot Water systems burn either natural gas (also called mains or reticulated gas) or Liquefied Petroleum Gas (also called LPG).
Gas hot water systems produce about a third of the greenhouse gas emissions of electric storage hot water systems.