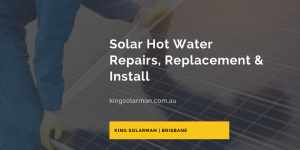 Ideally, a solar hot water system comes with an extended lifespan that will serve you for over a decade. Therefore, it should not surprise you when you use yours for ages without repairs or replacements.
Still, you will need solar hot water system installation, repair, and replacement services at some point. With that in mind, you need a professional and licensed plumber to install solar hot water for you. Hiring a professional plumber is important because of their training on improvement and knowledge of the ever-changing plumbing industry trends.
Plumbing is a continuously updated service. So, you need a specialist who keeps up with the advances and can install a solar hot water system in compliance with strict Australian regulations.
If you want to try a solar hot water system, understanding the installation requirements and procedures can come in handy. Additionally, it helps you grasp the scope of a solar hot water system and how it can better serve your home. And as it is with any other complex mechanical project, it is crucial that you find a reputable professional installation company like King Solar Man to ensure that your solar hot water is set up correctly.
Solar hot water installation process
Mounting solar collectors on the roof;
Installing the storage tank (either on the roof or ground);
Installing pipework to transfer water;
Installing control systems such as pump and controller, and;
Insulating the entire system.
Installations vary from one plumber to another, and it sometimes depends on the type of hot water system you are using. However, these are the basic installation steps that every plumber is likely to follow when installing your solar hot water. The six steps above serve as an overview of what it is like to install a solar hot water system. However, they do not reflect the exact process that an installer is supposed to take.
These steps are essentially designed to explain the typical installation process for a solar hot water system.
Solar hot water repair and replacement
As with any other mechanical device, solar hot water systems are prone to failures and problems that can be solved with regular maintenance procedures, repairs, and replacements.
The most common problems that you are likely to experience with your solar hot water are corrosion on the metal components, wear and tear, fluid leakage, insufficient hot water supply, and sediment build-up. Some of these issues can be prevented with routine maintenance to ensure smooth functioning and excellent performance. However, some require repairs and replacement, and in such a situation, you will need the services of an expert plumber.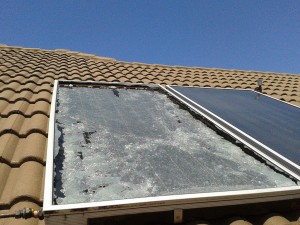 Solutions to common solar hot water problems
Clean the collector glazing to remove sediments that may affect the system's performance or damage some of its parts.
Inspect the seals for cracks and other damage to prevent leaks.
Tighten the bolts and nuts supporting the structure.
Inspect the storage tank and valves to prevent leaks.
Replace the heat transfer fluid.
Reduce the risks of freezing and low temperature by insulating the system correctly.
Inspect the pump, sensor, and controllers for any decline in performance. Repair or replace the parts for smooth operation.
Solar hot water is typically a low-cost project, but it can cost you a lot if you do not take good care of the system. This is why regular maintenance and repair is required, mainly to increase efficiency and extend its lifespan.
Bottom Line
A well-maintained solar hot water system will serve you for a decade or so as long as you get the best out of it by consulting the best solar hot water experts. King Solar Man provides plumbing services based on Australia's latest regulatory and industry requirements to ensure your solar hot water system is up to date and in optimal working condition. Our technicians work to ensure your system operates under the latest solar technology and offer long term solutions for all your solar hot water needs.
We have access to replacement parts, components, and the best tools in the market, and we are the perfect solution to all your solar hot water problems, including solar hot water repairs, replacements, and installation. When it comes to installing solar hot water systems, our experienced technicians will go through the procedures with you to help you select the best solar hot water unit for your needs.