As we all start to look to greener self-sufficient energy solutions, it's no surprise that the demand for solar hot water systems is rising. Here at King Solar Man, we understand what our clients need from their hot water systems and we're specialists in solar hot water systems too.
If you're looking to find out more about choosing the best solar hot water system for you, you're in the right place. We're going to cover the information you need in order to make an informed decision regarding your new hot water system.
The Benefits of Choosing a Solar Hot Water System
Solar hot water systems employ modern technology and can keep your water heated all year round, not just during the summer months.
Using a solar hot water system can save you plenty of money. Producing your own hot water via the sun, helps you to substantially cut your water bills over the course of a year. Plus, from an environmental point of view, the switch will lead to a reduction in your home's carbon footprint, potentially saving hundreds of kilograms of CO2 emissions each year.
The Options
There are two main options that are worth considering and we offer both of them here at King Solar Man.  They are –
Roof Mounted or Thermosiphon Systems
As the name suggests, these water systems sit on the roof of your home. Naturally this will depend on the type of roof you have and it's structure, as it needs to be able to support the weight of the tank. But they will save space at the ground level because the tank is located out of the way. There's also no need for a circulation pump, meaning you'll have fewer parts to worry about.
They're available in different kinds of steel but we always recommend stainless steel for better durability and longevity. Internal boosters can and should be used during overcast and rainy days with less sunlight to utilize.
Split Systems
Split systems requite circulation pumps because the panels are located further from the tank, which is located on the ground. That means that the strength and support offered by your roof doesn't need to be quite as high.
There's no need to switch the internal booster with these systems, it kicks in automatically when it needs to. Different types and sizes of panels can be used with these systems, allowing you to tailor your setup to the roof space you have at your disposal.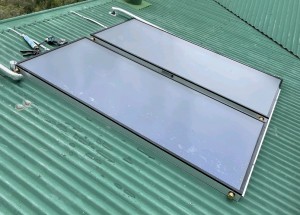 How to Decide Which is Right for You
There are a variety of factors that should be taken into account when choosing which of these options is the right one for your home. The first thing to know is that the price difference between the two is minimal, so don't let this be the deciding factor.
The condition of your home's roof and how much structural support it offers should be taken into account. Roof mounted systems need solid support, so if you don't have a load bearing roof, a split system is better. The amount of space you have available, both on the ground and on the roof should factor into your decisions.
Trust King Solar Man to Help You Find What You're Looking For
Here at King Solar Man we pride ourselves in excellence in both pre-sales and after sales service. We know that you're going to have questions, and so we're here to answer them. We also make sure that – technically – all of the parts that are used in the systems are locally available. Should you ever need support and service down the track, we're here for you too. We've got over 20 years experience in the industry and will certainly be here for many years to come. This saves problems later on if you ever need us to carry out a repair on your solar hot water system.
Find out more about how we can help you or get in touch with your questions. Ask for a free quote today Call 0416 075 682 or Contact Us HERE.